---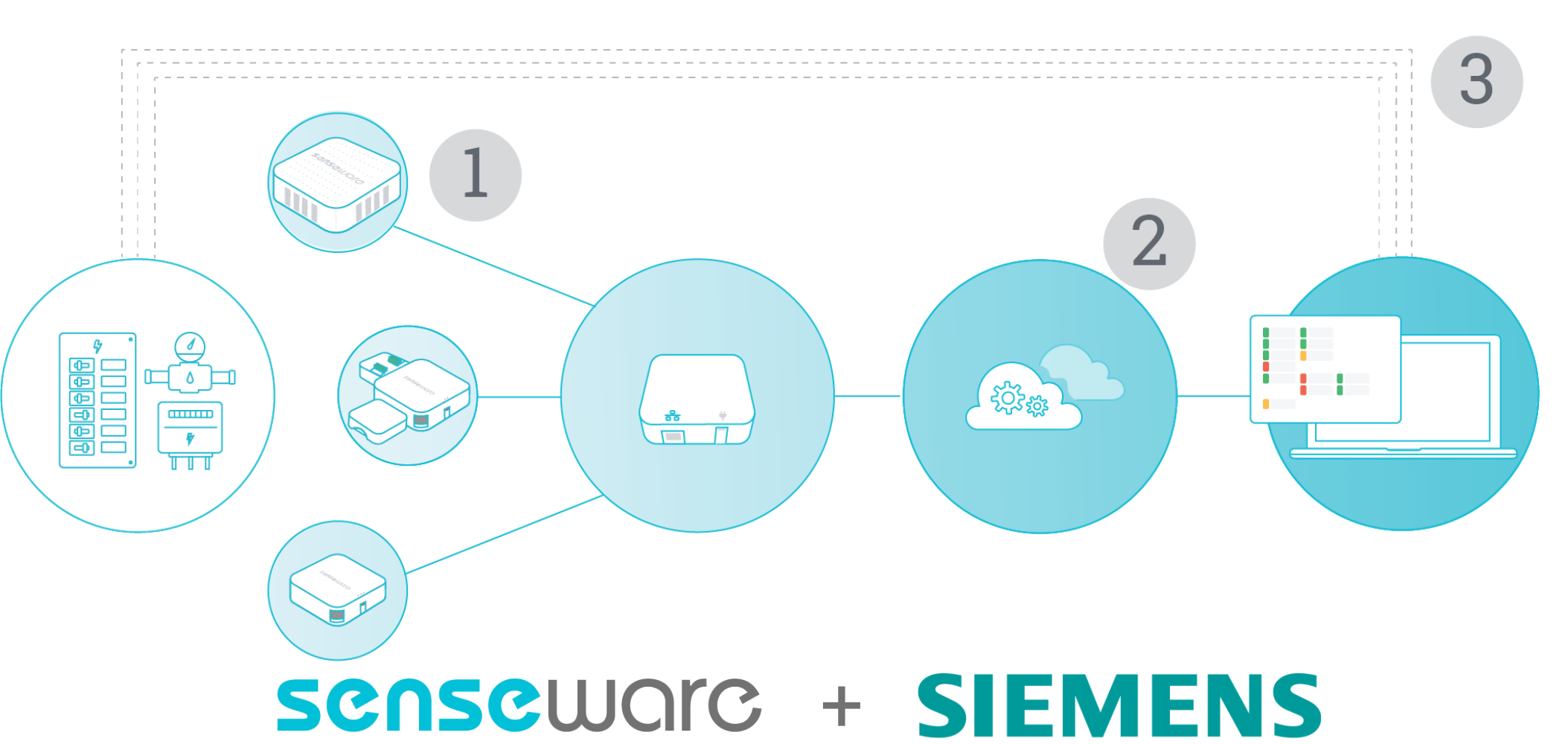 Siemens and Senseware, Inc. today announced that Senseware has joined the growing Siemens Connect Ecosystem – a network that brings together experts in software development, IT, cybersecurity, remote and digital services, and business intelligence.
Senseware is bringing scalable IoT platform solutions to the Siemens Connect Ecosystem, beginning with wireless Indoor Air Quality (IAQ) solutions for in-demand commercial and industrial applications. Senseware's modular IoT architecture rapidly integrates leading-edge IAQ sensors, far outpacing the industry. Siemens and Sensware customers will benefit from the latest technology from sensor manufacturers, which are innovating at breakneck speed to address current challenges such as the coronavirus pandemic.
"This partnership means that buildings in the Siemens Connect Ecosystem can easily integrate with Senseware technology. Our data and analytics dashboard gives you a real-time picture of exactly what is happening in your physical world. That results in more informed decision-making, safer environments, and thousands of dollars in cost savings." shares Dr. Serene Almomen, CEO and Co-Founder of Senseware.
The Siemens Ecosystem pulls together the tools, processes, training, and support necessary for third-party solution providers to successfully create solutions that integrate seamlessly with Siemens' platforms, including its Building Management System Desigo CC, the APOGEE Automation System, and related platforms.
"As more and more connected devices enable us to deliver on the promises of a truly intelligent building, organizations must be able to adapt quickly and advance smart building operations and performance. The Siemens Connect Ecosystem is our answer to this digital transformation, which lets us all create places perfectly designed for their purpose," says Brad Haeberle, VP of Solutions and Service at Siemens.
Senseware's scalable IoT Platform will deliver real-time IAQ data seamlessly to the Siemens Connect Ecosystem via web API. The integration will enable new forms of building management and automation, fulfilling the promise of true smart buildings. Senseware's expertise goes beyond leading-edge IAQ data, and can be expanded to all forms of mechanical, electrical and plumbing data that are inaccessible to the building management system.
About the Siemens Connect Ecosystem
By 2025, there will be more than 40.6 billion connected devices in smart buildings, and the ability to quickly adapt and advance smart building operation is more critical than ever. The Siemens Connect Ecosystem brings together experts in software development, IT, cybersecurity, remote and digital services, and business intelligence in a searchable catalog of partner use case solutions and documentation. A thriving software ecosystem supports the digital transformation, helping our customers create places that are perfectly designed for their purpose and granting them the freedom to focus on the goals that drive their business forward. Learn more at usa.siemens.com/siemensconnect
About Senseware
Senseware is accelerating digital transformation with a structured method of real-time capture of Mechanical, Electrical, Plumbing and Environmental data. Built on the founding vision of providing a simple solution of delivering real-time data from the physical environment to the web, Senseware's complete IoT Technology Stack integrates plug-and-play configurable IoT Edge hardware with IoT Core software in the cloud. By removing the need for IoT development kits, Senseware is increasing the velocity of IoT applications.
About Siemens
Siemens Smart Infrastructure (SI) is shaping the market for intelligent, adaptive infrastructure for today and the future. It addresses the pressing challenges of urbanization and climate change by connecting energy systems, buildings and industries. SI provides customers with a comprehensive end-to-end portfolio from a single source – with products, systems, solutions and services from the point of power generation all the way to consumption. With an increasingly digitalized ecosystem, it helps customers thrive and communities progress while contributing toward protecting the planet. SI creates environments that care. With around 70,000 employees worldwide, Siemens Smart Infrastructure has its global headquarters in Zug, Switzerland, and its U.S. corporate headquarters in Buffalo Grove, Illinois, USA. Learn more at usa.siemens/buildingtechnologies
Siemens Corporation is a U.S. subsidiary of Siemens AG, a global technology powerhouse that has stood for engineering excellence, innovation, quality, reliability and internationality for more than 170 years. Active around the world, the company focuses on intelligent infrastructure for buildings and distributed energy systems and on automation and digitalization in the process and manufacturing industries. Siemens brings together the digital and physical worlds to benefit customers and society. Through Mobility, a leading supplier of intelligent mobility solutions for rail and road transport, Siemens is helping to shape the world market for passenger and freight services. Via its majority stake in the publicly listed company Siemens Healthineers, Siemens is also a world-leading supplier of medical technology and digital health services. In addition, Siemens holds a minority stake in Siemens Energy, a global leader in the transmission and generation of electrical power that has been listed on the stock exchange since September 28, 2020. In fiscal 2020, Siemens Group USA generated revenue of $17 billion and employs approximately 40,000 people serving customers in all 50 states and Puerto Rico. Learn more at usa.siemens.com.
Transform the way you acquire real-time data with Senseware
Learn more about Senseware and the Siemens Connect Ecosystem by scheduling a demo with our team.